New Zealand Fashion Week
After attending various runway shows over the last week it seemed fitting to cut back to my favorites. Whether it be for design, structure, ambience or creativity, there was a lot of talented New Zealand designers delivering the goods at this years show.
I regret to mention the designers i've skipped out on, I'm sorry Huffer - but who was your stylist and how did you make so many wrongs without a single right? If surf wear is your game then please, just stay in your lane.
On another note, welcome to the top of the pops. The best of the best of my Fashion Week 2017 experience:
Zambesi made quite the opening with heavy metallics, hot mustards, a touch of floral and an edgy array of models. A refreshing colour palette for a usually minimalistic brand. Hand me the mustard suit because I feel like getting saucy.
Rachel Mills delivered an exceptional experience, moving beyond the traditional landscape of the runway. As an exhibition style show case we walked around the models who sat or stood, moving into poses as we photographed. The designs stood out as my favorite, easily transferrable to real life wear. Crisp whites, contrast reds and textured wraps had me in awe of every piece. Sign me up, I'll be saving my coins for this rainy day.
As someone who is known for colour popping outfits you might be suprised to find Lela Jacobs in my top hits. Lela Jacobs put on an exceptional moody and monochromatic showcase in an interesting off sight location of the Auckland Silo's. Her designs are dramatic with an androgynous appeal, taking the material away from shaping the silhouette. Despite recorders usually giving me a post primary flash back the way the musical material was used was detrimental to the overall experience of the trudging models. A job well done.
The Graduate show was possibly the most relatable for me, seeing bold, bright prints and colour clashings really appealed to me and was something that not a lot of designers were confident enough to pull off, especially in a small market like New Zealand. From Tess Norquays bonkers prints and neon colouring, Shannen Youngs on trend checkerboard theme to Yoshino Maruyama beautiful and soft flowing fabrics - Massey University provided some stand out designers. And Laura Marris can't be missed for the pops of playful colours and delightful florals, a collection I would thrive in.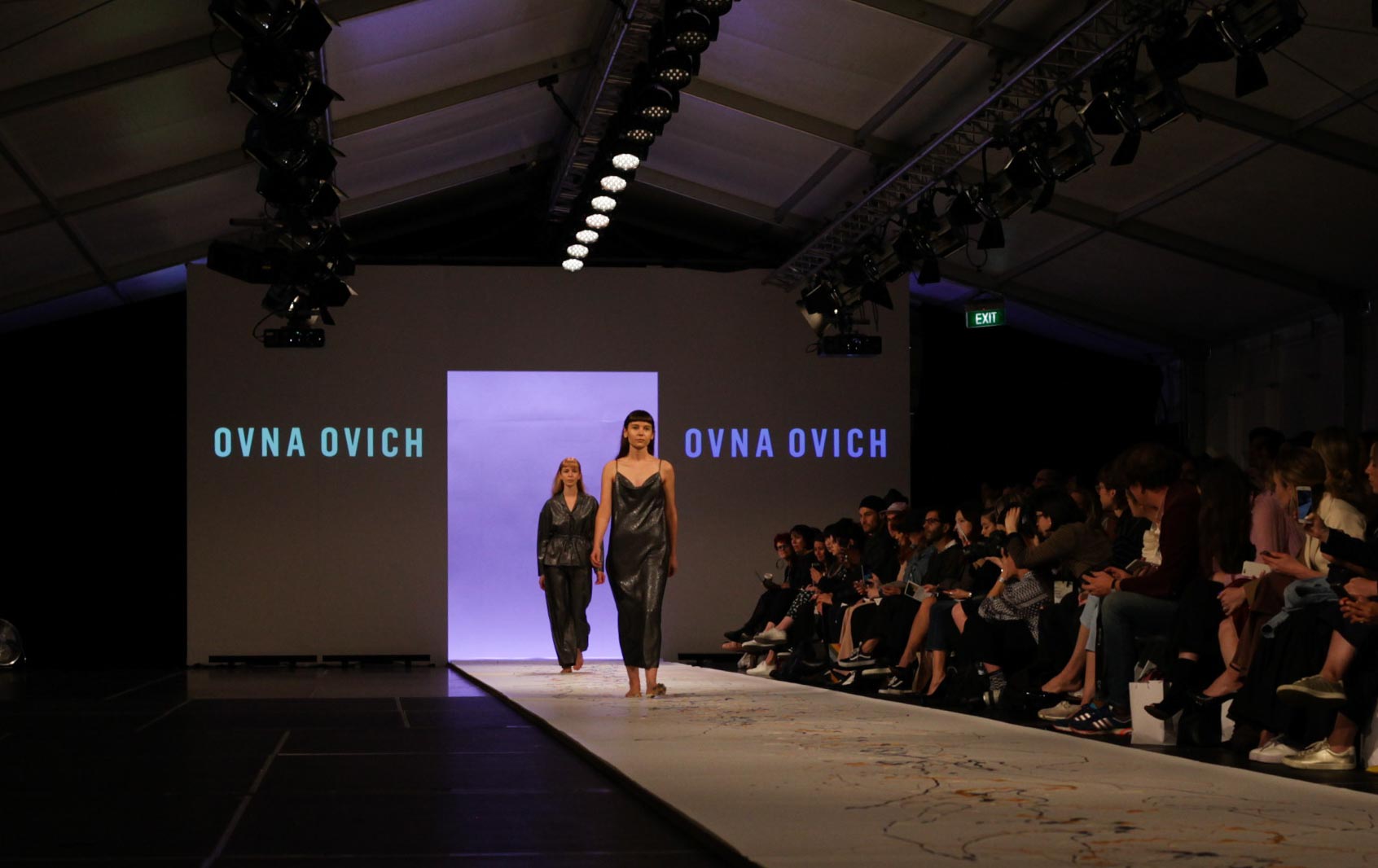 Ovna Ovich, designed by Marina Davis, is a nod to sustainable, natural fabrics that look good. Clean cut and comfortable structures that flatter the shape without the idea of form fitting. Beautiful burnt mustards, navy soft fitting suits accopanied by the live music of Purple Pilgrams, a beautiful and intimate showcasing of her collection.
Yu Mei based in Wellington, put on another presentation with their new season collection hagnign from the ceiling. Beautiful setting, fine leathers and interesting shape and from of bags i'm sure we will see about town.
Wyn Hamlyn, a real crowd favorite, was full to the brim of eager onlookers. With beautiful pops of red, deliciously extravagant hats and comfortable but still desirable day wear that would could take you anywhere. I couldn't help but imagine myself at the beach peeking out beneath the oversized hats or perhaps a day trip in Paris in my new Wynn Hamlyn suit, ahh dreams.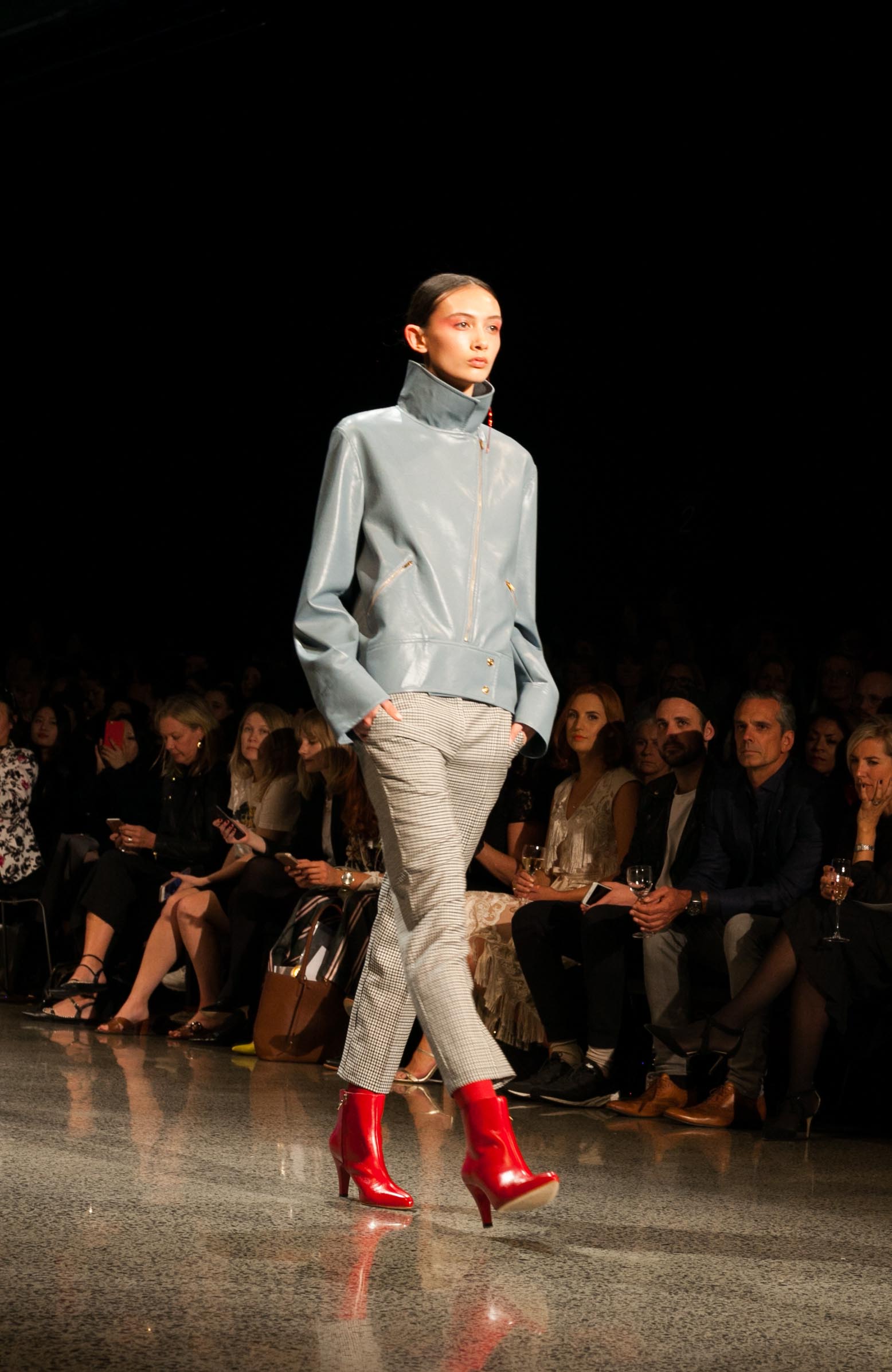 Kate Sylvester in my eyes always resembled a slightly older demographic, mums and money - stylish mums and money. But this latest collection? A game changer. The bright tones of emerald green velvet tracksuits, flowing magenta skirts and crisp olive leather jackets has me wishing this was my wardrobe. The impeccable styling screamed first class sophistication and fun - not an easy tension to play. As for the red prairie dress? That will be mine, one day.